September 8, 2015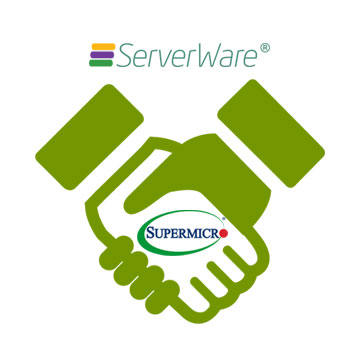 Serverware® is Supermicro® distributor
2016 Marks the year 14th year ServerWare® has been the leader Malaysian Technology company in providing Servers and Servers solutions in the country. Officially recognized as the #1 Malaysian Brand Servers we have been taking the leadership position in the numbers of server sell in Malaysia for the last 9 years.
What our customers knows is that our servers are branded as ServerWare® . However ServerWare® does not manufacture any servers at all. What we do is that we choose the best whitebox servers in the world and craft it together to provide the best and largest range of servers there is to offers. Recognizing that no one size fits all requirements, careful selection of the best solutions are choose and put together with our expertise on server integrations.
August 25, 2014
Check out SuperMicro EVORAIL Product Solution information HERE
Supermicro® Debuts New 2U VMware EVO: RAIL™, Ultra Series and SuperBlade Virtualization Solutions at VMworld 2014 VMware Optimized Compute, Storage and Networking Solutions Enable Rapid Deployment of Next Generation Software-Defined Data Centers
San Francisco, CA, August 25, 2014 – Super Micro Computer, Inc. (NASDAQ: SMCI), a global leader in high-performance, high-efficiency server, storage technology and green computing will highlight its new Ultra Series high memory capacity 24x DIMM, NVMe enabled servers, 2U TwinPro²™, 4U FatTwin™ SuperServer, and storage optimized 6x HDD/SSD SuperBlade® solutions this week at VMworld 2014 in San Francisco, CA. These advanced server and storage solutions with VMware technologies are optimized for a wide range of virtualization applications. Headlining the event will be Supermicro's 2U TwinPro²™, a VMware certified EVO: RAIL hyper-converged infrastructure appliance designed to accelerate deployment and optimize performance of virtualized environments. This scale-out solution features an optimal balance of compute, memory, storage and networking with redundant hot-swap Titanium Level, High Efficiency (96%+) Digital Power Supplies in a high-density 4-node, dual processor server appliance, simplifying virtualization across Enterprise, private/hybrid-Cloud, End-user computing and branch office environments.