July 16, 2015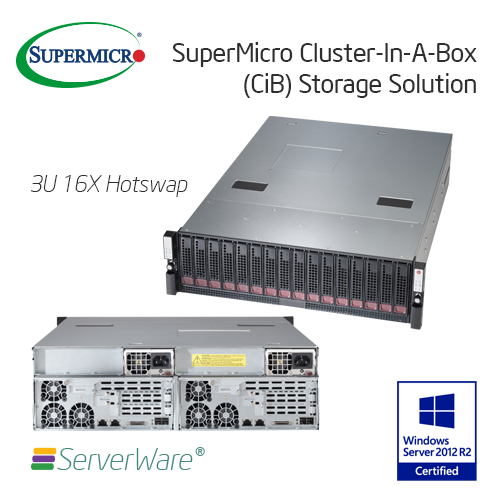 Windows Storage Server 2012 R2 on Supermicro High-Capacity 3U Cluster-in-a-Box
Supermicro's 3U SuperStorage Bridge Bay running Windows Storage Server 2012 R2 Standard is a fully redundant, fault-tolerant Cluster-in-a-Box designed for mission-critical, enterprise storage.

Mission-Critical, Enterprise Storage at an Affordable Price
Part of Supermicro's SuperStorage Bridge Bay (Super SBB) line, the SSG-6037B-CIB032 is designed to provide reliable, enterprise-grade storage for SMB and remote office environments at an affordable price. Key features and benefits include:
• Hot-swappable modules for all active components – including storage controllers, power supplies, and disk drives.
• Ready-to-deploy – delivered with Windows Storage Server 2012 R2 Standard preinstalled and Failover Clustering preconfigured across the two compute nodes.
• Native integration with Active Directory – enabling fast and easy deployment in existing Windows Server-based IT infrastructures.
• Easily expanded – built-in expansion ports make it easy to connect up to four Super SBB 937R-E2JB JBODs, each of which supports 16x 3.5" SAS2/SATA3 drives.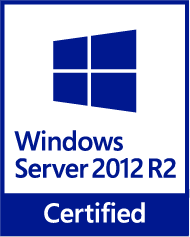 With the SSG-6037B-CIB032 running Windows Storage Server 2012 R2 Standard, you'll have access to the latest storage innovations from Microsoft, including:
• Data Deduplication and Storage Spaces – for maximizing and scaling your storage capacity.
• Storage Tiers, SMB Direct, SMB Multichannel, and NIC Teaming – for maximum performance.
• Enhancements to Failover Clustering and Hyper-V – for improved reliability.
For more information on all the capabilities built into Windows Storage Server 2012 R2 Standard, visit www.microsoft.com/windowsserver
The following diagram shows a typical deployment model for the SSG-6037B-CIB032 running Windows Storage Server 2012 R2 Standard in a datacenter environment.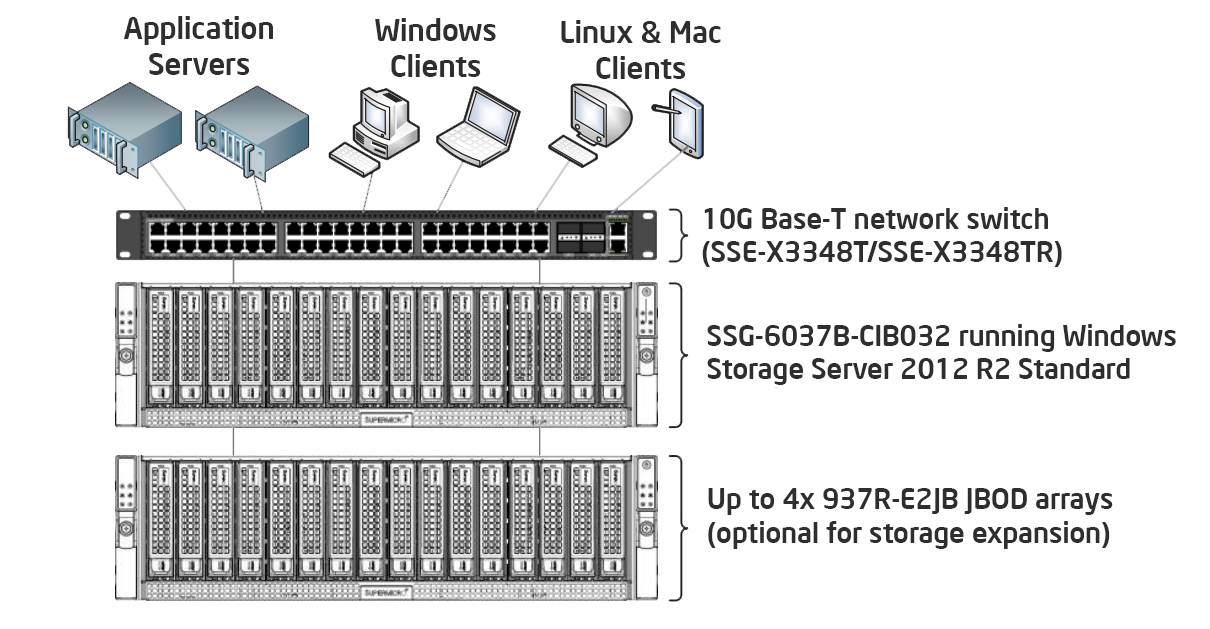 Base System Specifications
The SSG-6037B-CIB032 is a preconfigured system, built to the following specifications. Full specifications can be found at:
http://www.supermicro.com/products/system/3U/6037/SSG-6037B-DE2R16L.cfm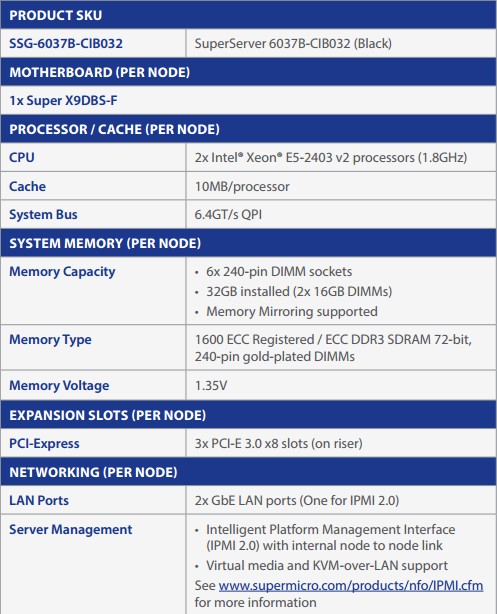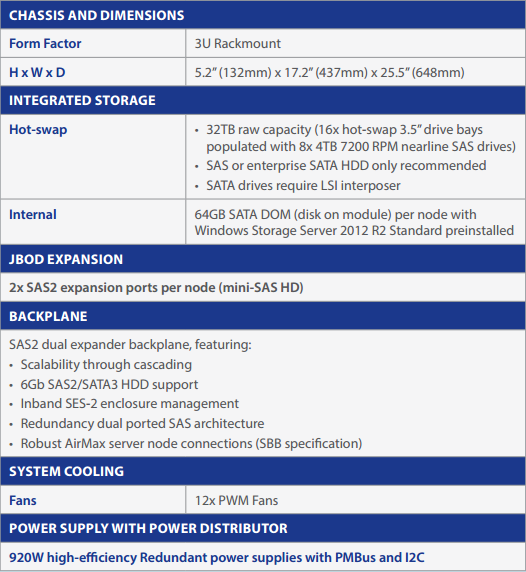 Networking Options
The high capacity provided by this model makes it ideal for workloads such as archiving or traditional file serving. For faster data transfer and more bandwidth, the following Supermicro networking cards are supported and can be added in pairs to the PCI-E expansion slots:

SuprMicro Network Options
More information on Supermicro networking products can be found at www.supermicro.com/products/nfo/networking.cfm
SSG-6037B-CIB032 AT-A-GLANCE
• Two hot-pluggable systems (nodes) in a 3U form factor
• 2 Intel Xeon E5-2403 v2 1.8GHz processors per node
• 32TB raw storage capacity (user expandable)
• Windows Storage Server 2012 R2 Standard preinstalled on internal SATA DOM (one DOM per node)
• 32GB system memory per node (user expandable)
• 3x PCI-E 3.0 x8 slots per node
• 6 Gbps LSI 2308 SAS2 controller per node (daughtercard on motherboard)
• 2x hot-plug JBOD expansion ports per node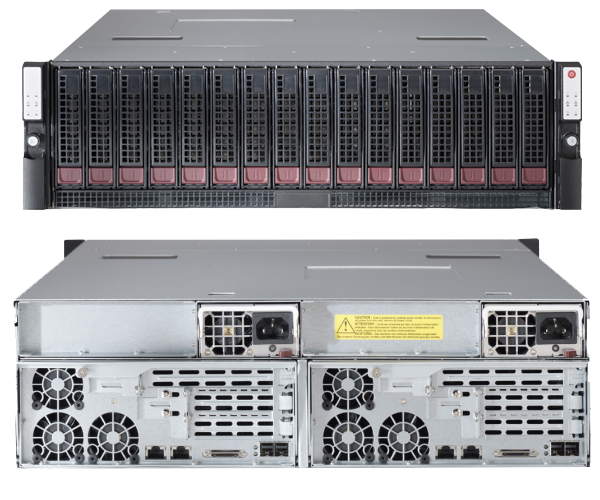 Easy Expansion
The use of Data Deduplication in Windows Storage Server 2012 R2 Standard can provide a significant increase in storage efficiency for many common storage workloads. After maximum capacity is reached, the SSG-6037B-CIB032 can easily be expanded by connecting its built-in JBOD expansion port to a Super SBB JBOD (Supermicro P/N SYS-937R-E2JB), which supports 16x 3.5" SAS2/SATA3 drives. Up to four JBODs can be attached, providing up to an additional 384TB of raw disk capacity when populated with 6TB nearline SAS drives.
Download Datasheet Datasheet

About ServerWare® Sdn Bhd
ServerWare® provides advanced hardware systems to cloud datacenters worldwide. Product lines include servers, storage, network switches, and integrated rack systems. ServerWare® customers want the same innovative cloud hardware technology in use by hyperscale cloud datacenter operators, but in off-the-shelf SKUs with global services. ServerWare® sells cloud hardware that delivers hyperscale performance, efficiency and advanced engineering, with flexible product configuration, rack integration, performance tuning and engineering consulting services to help customers deploy optimized cloud solutions for their unique cloud workloads.
ServerWare® is SuperMicro® Distributor in Malaysia