September 4, 2015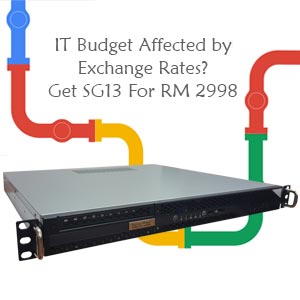 The Last 3 weeks has caught everyone in the country by surprise with a variance of 30% percent increase from RM 3.60 to USD 1.00 to RM 4.3+ to USD 1.00. IT budget planned ahead by many companies is distrupted. Vendors all alike are forced to increase price due to the exchange rates changes. ServerWare is no exception. We received many enquiries from our customers on the effect of this change to their business.
Hence we are making this effort to help our customer by releasing our Sept 2015 SG13 Promotion by maintaining the same specifications and price accordingly as our July Offers which was tag at pre-increase rates.
Please check the specifications and datasheet downloads here.

ServerWare SG13 SATA 1U Server System
Intel Xeon E3-1231V3 Processor
8GB ECC DDR3 Memory
1 x 1TB enterprise Sata HDD
IKVM Remote Management
2 x 1Gbe Intel Network Ports
3 Years Parts Warranty Back To Bench
RM 2998
ServerWare SG13 SAS 1U Server System
Intel Xeon E3-1231V3 Processor
8GB ECC DDR3 Memory
1 x 1TB enterprise Sata HDD
LSI 2308 SAS 6G RAID 0,1,10
IKVM Remote Management
2 x 1Gbe Intel Network Ports
3 Years Parts Warranty Back To Bench
RM 3348.00
Upgrade to 3 Years OnSite Support (Klang Valley Only)
Add RM 599.00
promotion period 7th Sept 2015 to 30th sept 2015 or while current supplies last
ServerWare® is SuperMicro® Distributor in Malaysia