August 13, 2015
The New Data Center Graphics Powerhouse with ServerWare® SG13SS and SG18SS.
Visual content is increasing in our digital world. According to a 2014 report by Sandvine, video delivery will account for 79 percent of Internet traffic by 2018. Entertainment and social networking are driving this growth, yet data center graphics are also playing an increasing role in business, changing the way products are designed and sold, data is analyzed, and information is shared. Engineering work once done only on a deskside workstation is now being moved to the data center with complex 3D applications being delivered remotely to end devices. This enables better collaboration and offers increased security as data is stored in secure data centers.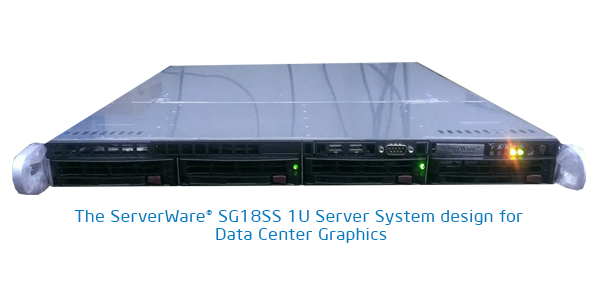 The ServerWare® SG18SS 1U Server System design for Data Center Graphics
This transition is impacting both the volume and characteristics of data center workloads. There is a growing need to deliver high quality video and complex 3D applications taster and at lower total cost.
The ServerWare® SG13SS 1U Server System design for Data Center Graphics
Enter the ServerWare® SG13SS and SG18SS Server System build with Intel® Xeon® processor E3-1200 v4 product family. With up to 1.8x the overall graphics performance of the previous-generation, these processors can deliver high-quality visual experiences with up to 1.4x more video trans-coding performance per node and up to 4,300 simultaneous HD video streams per rack, and with a TDP savings of 56% on the processors alone than the previous generation Intel® Xeon® processor E3-1200 v3 product family.
The tight integration of compute and graphics in the same processor increases performance and density, while reducing power consumption and data movement. The result is another leap forward in graphics capability that can help you deliver better user experiences at lower cost for graphic-intensive workloads.
Data Center Graphics
Great HD Video Transcode Performance
Media service providers require transcode solutions with cost-efficient, dense designs and optimized performanoe to support real-time, multi-stream delivery of HD video. A data center graphics server SG13SS and SG18SS based on the Intel Xeon processor E3-1200 v4 product family do just that. These servers can support up to 1.4x more transcodes per processor than the previous generation Intel Xeon processor E3-I200 v3 family. You can deliver high-quality content on demand—as well as live broad casting and video-conterencing to more users with a smaller data center footprint and lower power consumption.
ServerWare® SuperMicro® Server
ServerWare® SG13SS and SG18SS Data center Graphics Server
For developers of video transcoding software, Intel Media Server Studio gives you state-of-the-art encoding features for tailoring image ou ality versus performance, and for simplifying media application development. This comprehensive suite of development tools supports both Linux and Windows. It also provides access to the Intel Iris Pro graphics and Intel Quick Sync Video media accelerators for high-speed media transcode.
Remote Workstations
Rich Applications for Demanding Users
Design and manufacturing companies need simpler and more With the Intel Xeon prooessor E3-1200 v4 family, you can secure ways to share complex 3D application data across global provide workstation-class visual experiences cost effectively design, sales, and service teams. Remote workstations provide ho hundreds or even thousands of users. Intel Graphics a solution: Keep your critical design data in a centralized data Virtualization Technologies [GVT] allow you to dedicate the center and deliver rich, responsive, 3D applications, such as CAD resources of each prooessor to a single designer or engineer, design applications, over local and wide-area networks to any or share them among hundreds of less demanding users.
ServerWare SuperMicro Offer with E3-1200 V4 Processors
Intel E3-1200 V4 Diagram Chart
Responsive Performance for Graphics Workload
Performance optimized for graphics intensive workloads.
Integrated graphics acceleration Intel® Iris Pro Graphics P6300 and integrated eDRAM memory.
Accelerates video transcoding and remote workstation workloads
– Up to 1.8x the graphics performance of the prior generation
– 16 GB of addressable video memory
– 51 GB of bandwidth between eDRAM and system memory
Intel® Quick Sync Video
Dedicated, fixed function video processing makes video transcoding faster and easier
Intel® Advanced Vector Extensions 2 [Intel® AVX2]

Provides significant performance benefit for developers of imaging, video editing, modeling, and simulation applications
Intel® Turbo Boost Technology 2.0
Higher performance when you need it most
– Takes advantage of power and thermal headroom to accelerate processor and graphics performance during peak loads.
Intel® Hyper-Threading Technology [Intel® HT Technology]
Faster performance for many demanding business applications
– Thread-level parallelism benefits multi-threaded and concurrently running applications
PCI Express 3.0 ports
Extra capacity and flexibility for storage and networking connections
– Up to double the I/O bandwidth of prior-generation PCIe 2.0
Serial ATA 3.0 [SATA 3.0]
Faster data access, system startups, and application load times
– Doubles data throughput versus previous generation for faster hard drive performance
Intel® Virtualization Technology [Intel®VT] for IA-32 and Intel® 64 [Intel® VT-x]
Faster performance for more virtualization processes
– Helps to improve application performance, live migration, provisioning dynamic load balancing and disaster recovery
Intel® Virtualization Technology for Directe I/O [Intel® VT-d]
Built-in hardware support for I/O virtualization
– Helps to improve I/O performance, increase system reliability, and strengthen memory protection
Intel® Graphics Virtualization Technologies [Intel® GVT]
Built-in hardware support for graphics virtualization
– Enables dedicated or shared access to Intel® Iris Pro graphics P6300 for remote workstation users
For more information about ServerWare® Data Center Graphic Servers Please contact us as below address.
ServerWare® is SuperMicro® Distributor in Malaysia