August 13, 2015
SuperMicro® : Servers Optimized for Highest Performance-per-Watt
Enterprise Class SuperServers Provide Greatest Efficiency for Cloud and Hyperscale Data Centers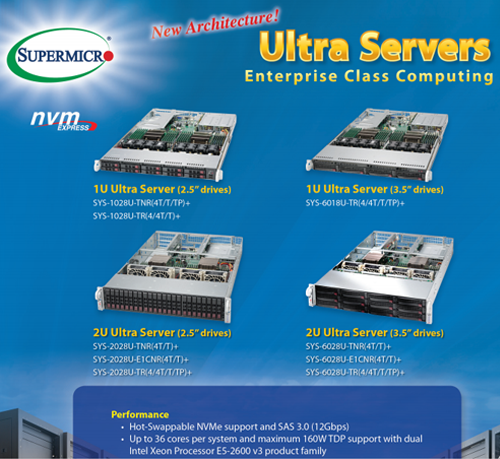 Supermicro® Efficiency Optimized Servers
Supermicro® has designed a new class of SuperServer® systems optimized to meet the latest and most stringent data center power efficiency requirements. Today's Cloud and Hyperscale operations, with many thousands of servers installed, require the highest levels of performance-per-watt to keep operating costs (OPEX) at acceptable levels without sacrificing performance.
Building on its 1U Data Center Optimized and 2U Twin SuperServer® models, Supermicro® has developed several performance-per-watt optimized SuperServer@ systems to meet these stringent efficiency requirements.
The below describes the configurations (Table 1) and test results (Chart 1 and Table 2) for the Supermicro® 1U and 2U efficiency optimized servers compared to today's best standard 1U rackmount volume servers. The results show that data centers can substantially improve their power savings by 35 watts per node, which translates to over $5 million in savings over a 4-year period for a 10,000 node server deployment.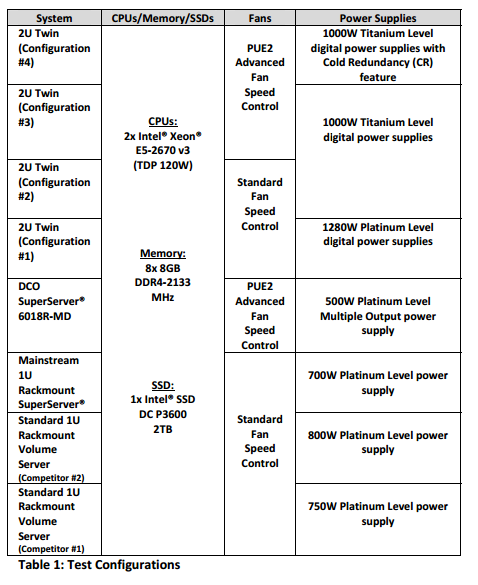 Test Configurations
Three standard 1U rackmount volume servers from different suppliers were used as baselines for the testing. For direct comparison, a Supermicro® SYS-6018R-MD 1U Data Center Optimized (DCO) system designed for Hyperscale environments was also tested. The other four systems tested were optimized variants of the standard Supermicro 2U Twin (SVS-6028TR-DTR) SuperServer® system with 1280 watt Platinum Level (94%) digital high- efficiency power supplies (Configuration #1).
Configuration #2 was a SYS-6028TR-DTR modified with high-efficiency 1000 watt Titanium Level (96%+) digital power supplies.
Configuration #3 was similar to #2 but with Supermicro® PUE2 advanced fan speed control enabled.
Configuration #4 was similar in hardware configuration to #3, but having the Supermicro® Cold Redundancy feature enabled.
The configuration of all eight systems tested is outlined in Table 1. The components including CPUs, memory, and SSDs were identical. The BIOS settings and test environments were also identical except where noted.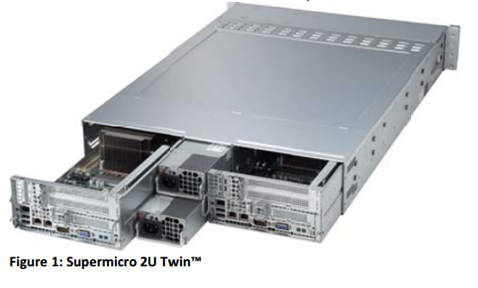 Performance and Power Measurements
All systems were run utilizing the High Performance LINPACK (HPL) Benchmark program. Power utilization was measured at the plug under identical operating conditions and configurations. Continuous power measurements at idle, average, and peak power values were recorded via power meters. Power efficiency was calculated using the following formula:
Power Efficiency (GFLOPS/W) = HPL Score / Average Power From the High Performance LINPACK score and average power generated during the test, power efficiency in GFLOPS per Watt were calculated for each of the eight systems and graphed in Chart 1 below.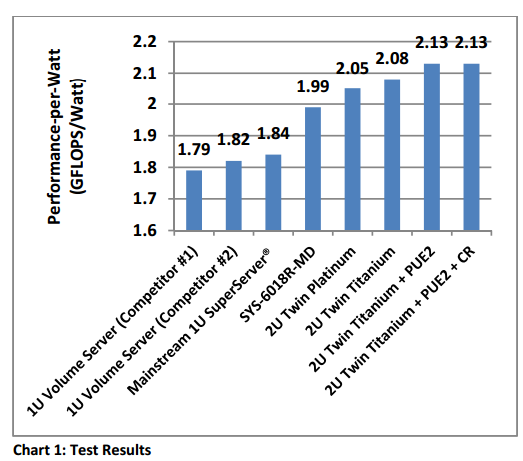 Test Results
The Supermicro® optimizations resulted in significant improvements in the performance-per-watt of the 2U Twin, to 19% over that of the standard 1U rackmount volume server (Competitor #1) as indicated in Chart 1. Further details are provided in the discussion below.
The best testing result, 2.13 GFLOPS/Watt, was generated by the most optimized ZU Twin system. The lowest testing result, 1.79 GFLOPS/Watt, was produced by a standard 1U rackmount volume server (Competitor #1). The difference in performance-per-watt between these two sen/ers was 19%. The other five systems/configurations provided results that were intermediate between these two values.
Performance-per-Watt Optimizations
The SuperServer® 6018R~MD 1U DCO server was superior to the standard 1U volume servers due to side-by-side CPUs for non-shadowed cooling, more efficient power supply, optimized serverboard, and short-depth chassis for more efficient air flow.
The standard model Supermicro® 2U Twin (SYSs6028TR— DTR), with two server nodes in a 2U chassis, is more power efficient than a pair of 1U rackmount servers because it is designed with larger customized heat sinks and larger fans to provide improved cooling.
The Supermicro® 2U Twin configured with Titanium Level power supplies consumed less power than an identical 2U Twin system configured with Platinum Level power supplies due to its improved power efficiency, thus improving performance-per-watt. The PUE2 advanced fan speed control, which tunes fan speed to CPU power, provided an additional level of performance-per-watt improvement to the Supermicro® 2U Twin. A final level of optimization was achieved with the Cold Redundancy feature available with the Supermicro® 2U Twin. This allows the system's power supplies to operate at higher more efficient loading levels, especially at lower server loads.
See Table 2 for details on the power consumption results with this feature enabled for 2U Twin systems at idle.

Analysis
The average power levels of each system were compared under maximum LINPACK loading. These power levels were then converted to TCO savings by using a conversion factor of USD $15 per watt saved over a 4-year period (see http://www.supermicro.com/white_paper/white_paper_DCO_calculations.pdf for calculation). The optimizations resulted in significant improvements in the performance— per-watt of the 2U Twin, to 19% over that of the standard 1U rackmount volume server used as the baseline. The power and cost savings are summarized in Table 3.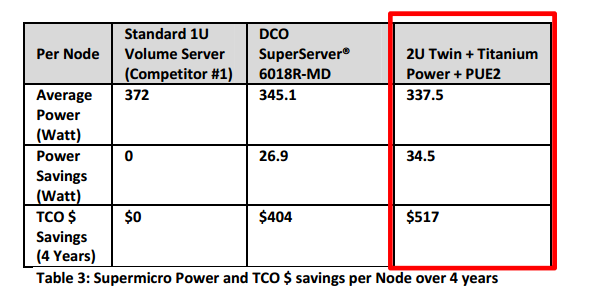 Conclusions
Designed to satisfy the critical performance and power requirements of the rapidly growing Cloud and Hyperscale industry, Supermicro® servers optimized for performance-per-watt demonstrate superior results when compared to standard 1U rackmount volume servers. The most optimized Supermicro® 2U Twin with Titanium Level digital power supplies and PUE2 advanced fan speed control achieved a USD $517 savings per node over a standard 1U rackmount volume server. For a 10,000 node data center, this savings translates to over $5 million in TCO savings over 4 years.
Cloud and Hyperscale operations seeking a critical competitive advantage should consider these optimized Supermicro SuperServer@ solutions as part of their business strategies. Supermicro® is committed to a long term roadmap of efficiency optimized solutions with the most advanced technologies and best TTM.
About ServerWare®
ServerWare® is the premier local server solutions provider in Malaysia. With a large portfolio in our hands including entry servers all the way to hyperscale data center solutions and HPC/Big Data, ServerWare® has been working with broad customers in various different requirements. Accumulating large skill set to support various server computing industry. ServerWare® is SuperMicro® Malaysia distributor attributing to our success in a highly complex environment.
ServerWare® offers Supermicro®'s total server / storage / networking solutions for its customers including locacl enhanced warranty terms, onsite service options, and dedicated global support team reduce customers' personnel expenses, inventory, and training costs. For more information visit: www.supermicro.com & www.serverware.com.my
download this Servers Optimized for Data Center Efficiency White PAper
About ServerWare® Sdn Bhd
ServerWare® provides advanced hardware systems to cloud datacenters worldwide. Product lines include servers, storage, network switches, and integrated rack systems. ServerWare® customers want the same innovative cloud hardware technology in use by hyperscale cloud datacenter operators, but in off-the-shelf SKUs with global services. ServerWare® sells cloud hardware that delivers hyperscale performance, efficiency and advanced engineering, with flexible product configuration, rack integration, performance tuning and engineering consulting services to help customers deploy optimized cloud solutions for their unique cloud workloads.
ServerWare® is SuperMicro® Distributor in Malaysia