June 16, 2015
ServerWare® SG12S 1U Storage Server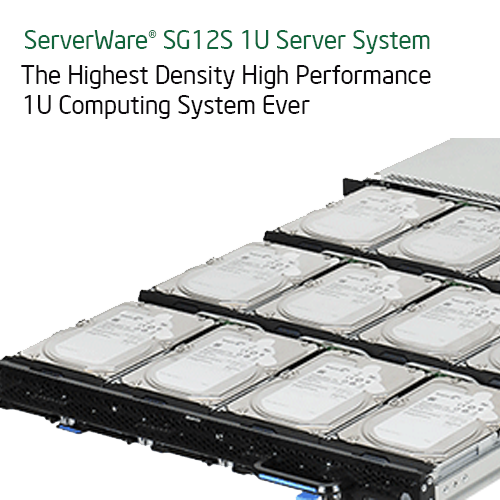 The ServerWare® SG12S 1U Server is based on Quanta® Server specifications design.
Pack with all the highend features that is easy on your budget. The Sg12S comes with the following features :
2 Socket Intel® Xeon® E5-2600V3 family processors
16 Dimms supports for upto 512GB Memories based on 32GB RDIMMS
12 x 3.5″ SAS Hotswap Module
4 x 2.5″ SSD/SATA Hotswap Modules
Redundant Power Supply Modules 1 + 1
Dense 1U form factor (depth 881mm)
LSI Hardware ROC 3108 Raid 0,1,5,6,10 Controller
2 x 1Gbe Intel® Network Controller
2 x 10Gbe intel® X540 RJ45 Network Controller
1 x iKVM
3 Years Parts Warranty
Optional 3 Years On Site Support Plan for only RM 398
Expected to be priced at RM 13998 ( not fixed) as a mainstream server for cloud computing and high performance server applications, the ServerWare® SG12S 1U server system is an ease to your budget and power to your server computing.
Est Price RM 13998.00
Dual Intel® Xeon® E5-2600V3 Processor System with 512GB DDR4 Memories capacities

The ServerWare® SG12S 1U Server System. Having More in a Server.
Build with LSI® 12G Hardware Raid for maximum data integrity and performance.

Streamline your Network QoS with Intel® 2 x 10Gbe Intel® X540 Network Controllers

Optional Upgrade to 3 Years On Site Support Plan for Only RM 398.00
About ServerWare® Sdn Bhd
ServerWare® provides advanced hardware systems to cloud datacenters worldwide. Product lines include servers, storage, network switches, and integrated rack systems. ServerWare® customers want the same innovative cloud hardware technology in use by hyperscale cloud datacenter operators, but in off-the-shelf SKUs with global services. ServerWare® sells cloud hardware that delivers hyperscale performance, efficiency and advanced engineering, with flexible product configuration, rack integration, performance tuning and engineering consulting services to help customers deploy optimized cloud solutions for their unique cloud workloads.
ServerWare® is SuperMicro® Distributor in Malaysia