February 24, 2015
Intel® RAID Controllers RS3DC080/040
Hardware ROC 12Gb/s SAS-3 Intelligent RAID Adapters
As data continues to grow at an unprecedented pace, mainstream server environments that include database servers, e-mail servers, and Web servers need a higher level of performance and scalability. Now with the Intel® RAID Controllers RS3DC080 and RS3DC040, powered by LSI® MegaRAID® Technology, organizations get next generation SAS 3.0 12Gb/s performance, Enterprise-class data protection and scalability designed for mainstream server environments.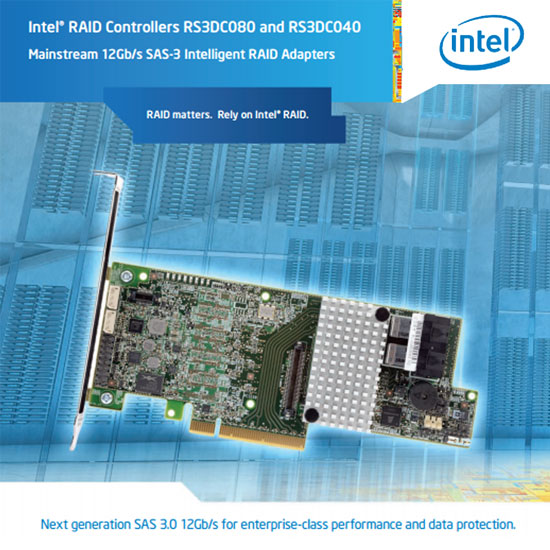 Featuring more than 750K RAID 5 IOPS – more than 60 percent improvement over the previous generation – and 6,000MB/s throughput performance for streaming applications, these RAID adapters unleash the full potential of enterprise PCIe 3.0 systems.*
The Intel® RAID Controllers RS3DC080 and RS3DC040 double the available bandwidth of current 6Gb/s SAS solutions, and offer a higher level of RAID performance and security compared to entry-level products. They feature eight and four internal ports respectively, deliver two 1.2GHz processor cores and 72-bit DDRIII interface that drives 1GB cache memory at 1866MHz. They support 8 PCI Express® lanes that comply with the latest PCI Express 3.0 specification with 8 gigatransfers per second (GT/s) per lane. Plus, each adapter supports 8 individual SAS ports operating at 12Gb/s.
The adapters are backward compatible with previous PCIe and SAS generations through automatic negotiation and provide SAS data transfer rates of 12, 6, and 3Gb/s per lane, and SATA data transfer rates at 6 and 3Gb/s per lane. The Intel RAID Web Console 2 included in these adapters enhances RAID volume creation by empowering administrators to further optimize their storage for application performance and data protection. With an intuitive graphical user interface, this Intel RAID Web Console 2 deploys all the critical system storage functions and helps eliminate complexity and learning curves. Plus, since all Intel RAID solutions are validated across multiple platforms with Intel® boards, chassis, and systems, when used together they deliver the best combination of performance, built-in.
"Did you know you can enable a more than 60 percent improvement in IOPS and double the throughput of the previous generation of RAID controllers?"
SAS-3 compliance allows for 12Gb/s SAS performance with a 6Gb/s drive infrastructure when a SAS 3.0 expander is installed
Provides over 6,000 Mb/s throughput performance for streaming applications and over 750K IOPS for database applications with RAID1
Drivers and tools supporting a wide range of Operating Systems and virtualization software
Intel documentation and support provide ease of mind and enable low TCO
Features and Benefits
The Intel® RAID Controllers and RS3DC040, powered by LSI® MegaRAID® Technology, provides the next generation SAS 3.0 12Gb/s performance and security for mainstream server environments including database, e-mail and Web servers.
1. LSI® SAS3108 ROC controller providing SAS 3.0 capability including 12Gb/s data transfer
2. Embedded 1GB 1866 MHz cache (ECC DDR3 memory) to efficiently store data in transition (Memory module included with all models, but not shown)
3. One or two HD SFF8643 SAS/SATA connectors for up to eight internal ports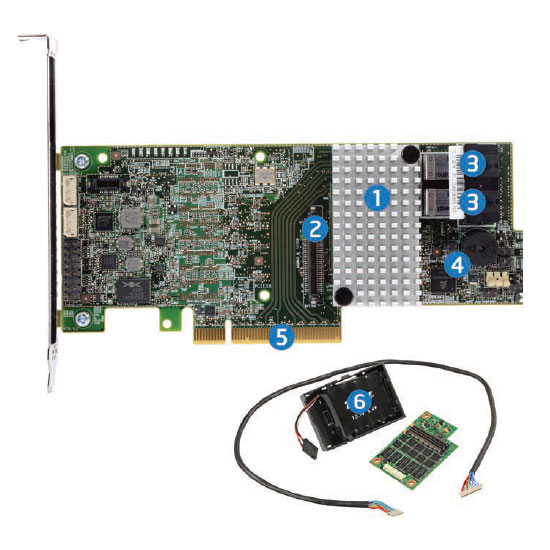 4. Speaker to deliver audible alerts
5. x8 PCI Express Generation 3 interface for fast communication with the server board
6. Optional Intel® Maintenance Free Backup Unit offering cache protection with up to 5 years service life
7. Optional Intel Cable Kit AXXCBL650HDMS includes two 650mm cables with HD SFF8643 mini-SAS to 8087 mini-SAS connectors (not shown)
Exceptional data protection
Supports data redundancy using SAS or SATA hard disk drives through mirroring, parity, and double parity (RAID levels 1, 5, and 6) plus striping capability for spans (RAID levels 10, 50, and 60).
Excellent performance
A dual core LSI® SAS3108 ROC, x8 PCI Express Generation 3 host interface and 1GB of 1866MHz cache enhance the performance of mainstream applications.
Inside-the-box design flexibility
With a true MD2 form factor, this adapter is ideal for low-profile height and halflength adapter slots. Eight internal 6 Gb/s SAS ports allow connection to 6Gb/s or 3Gb/s high-performance SAS drives, high-capacity SATA drives or a combination of both.
Outstanding availability
Delivers proactive drive monitoring and automatic error correction. A new battery (optional accessory) offers multiple operating modes including high heat tolerance and 5 year service life options.
FastPath I/O included
FastPath I/O – previously an add-on feature — provides a high performance I/O accelerator for SSDs. The technology is designed to dramatically boost transactional application throughput, delivering up to 750,000 I/Os per second (IOPS) in RAID mode.
Support for premium feature upgrades.
The RS3DC080 includes a connector for optional hardware-based keys that easily plug in to unlock advanced software algorithms designed to improve performance and enhanced data protection. For instance the SSD Cache upgrade allows for using one or more SSD as enhanced cache for the RAID controller which can significantly improve performance of read-intensive applications, such as file, Web and online transaction processing servers.
RAID Matters. Performance with Hardware ROC 12G.
Description
Specifications
Number of Ports
RS3DC080 : 8 ports Dual Connector
RS3DC040 : 4 Ports Single Connector
RAID Levels and Spans
RAID Levels 0, 1, 5, and 6
RAID Spans 10, 50, and 60
Data Protection Feature Highlights
Online Capacity Expansion
Hot-Spare Support – Global & Dedicated
Single Controller Multipathing (Failover)
Enclosure Management
Background Consistency Checking
Patrol Read for Media Functionality
S.M.A.R.T. Support
Intel® RAID Software
Intel® RAID Web Console 2
Intel® RAID Command Line Tool
Intel® RAID Flash Utilities
Self-Encrypting Drive Support
Optional AXXRFPKDE2 (Disk Encryption) upgrade key enables SafeStore* Encryption Services with Instant Secure
Erase and Local Key Management
I/O Processor
LSI® SAS3108 ROC running at 1.2 GHz
Drive Types
12Gb/s SAS, 6Gb/s SAS, 6Gb/s SATA, 3Gb/s SAS, 3Gb/s SATA
Maximum Drives
Up to 128 physical devices supported
Connectors
SFF 8643 SAS/SATA internal connectors
Cache Memory
Embedded 1GB DDR3 at 1866MHz
PCI Interface
x8 PCI Express* 3.0
Cache Backup Support
Optional Intel® Maintenance Free Backup Unit AXXRMFBU4
Form Factor
Low profile, MD2 (6.6" X 2.536")
Data Transfer Rates
Up to 12Gb/s per port
Operating Temperature
Maximum ambient: 65°C (55°C with optional MFBU)
Operating Voltage
+3.3 V
*.Performance tests and ratings are measured using specific computer systems and/or components and reflect the approximate performance of Intel products as measured by those tests. Any difference in system hardware or software design or configuration may affect actual performance. Buyers should consult other sources of information to evaluate the performance of systems or components they are considering purchasing