February 24, 2015
Intel® RAID Controllers RS3DC080/040
Hardware ROC 12Gb/s SAS-3 Intelligent RAID Adapters
As data continues to grow at an unprecedented pace, mainstream server environments that include database servers, e-mail servers, and Web servers need a higher level of performance and scalability. Now with the Intel® RAID Controllers RS3DC080 and RS3DC040, powered by LSI® MegaRAID® Technology, organizations get next generation SAS 3.0 12Gb/s performance, Enterprise-class data protection and scalability designed for mainstream server environments.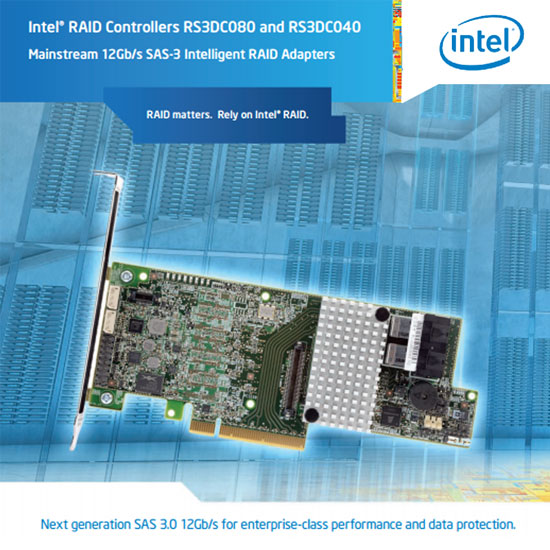 August 25, 2014
Check out SuperMicro EVORAIL Product Solution information HERE
Supermicro® Debuts New 2U VMware EVO: RAIL™, Ultra Series and SuperBlade Virtualization Solutions at VMworld 2014 VMware Optimized Compute, Storage and Networking Solutions Enable Rapid Deployment of Next Generation Software-Defined Data Centers
San Francisco, CA, August 25, 2014 – Super Micro Computer, Inc. (NASDAQ: SMCI), a global leader in high-performance, high-efficiency server, storage technology and green computing will highlight its new Ultra Series high memory capacity 24x DIMM, NVMe enabled servers, 2U TwinPro²™, 4U FatTwin™ SuperServer, and storage optimized 6x HDD/SSD SuperBlade® solutions this week at VMworld 2014 in San Francisco, CA. These advanced server and storage solutions with VMware technologies are optimized for a wide range of virtualization applications. Headlining the event will be Supermicro's 2U TwinPro²™, a VMware certified EVO: RAIL hyper-converged infrastructure appliance designed to accelerate deployment and optimize performance of virtualized environments. This scale-out solution features an optimal balance of compute, memory, storage and networking with redundant hot-swap Titanium Level, High Efficiency (96%+) Digital Power Supplies in a high-density 4-node, dual processor server appliance, simplifying virtualization across Enterprise, private/hybrid-Cloud, End-user computing and branch office environments.